Where rust and corrosion have no chance!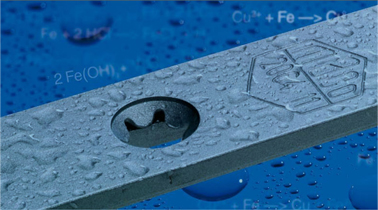 Keriko Plast Ltd offers high-quality products with guaranteed anti-rust protection – МАСО TRICOAT.
This special treatment is designed by MACO specialists for window and doorframes in highly corrosive atmospheres.
Ambient influences and certain aggressive substances can cause premature corrosion of metal parts. Until lately, no adequate coating existed to resist those extreme factors.
Now MACO offers their customers the innovative TRICOAT treatment ensuring a durable and efficient protection of all surfaces. This new coating is unique for its startling results in corrosion testing.
Spheres of application
Metal hardware is subject to different atmospheric conditions and industrial pollutants that cause it to corrode and make it unusable. That is why MACO TRICOAT is an extremely versatile product and can be used as standard door/window hardware, too. It guarantees stability and durability. It is absolutely essential in conditions where galvanized surfaces prove to be insufficiently resistant to corrosion.
Thanks to its unique three-layered coating, the TRICOAT hardware ensures lasting and problem-free use with no risk of rusting or other defects on the metal parts of joinery whatsoever.
Great solution for the visible parts of hardware!
MACO TRICOAT is the best choice in a wide variety of cases. Keriko Plast strongly recommends its use in the following occasions:
Coastal and island locations
Locations with high concentration of lactic acid vapours (dairy farms and factories)
Locations with steady influence of chlorine fumes (swimming pools, baths)
Places with high humidity (basements, laundries)
The upper and lower hinges are the metal parts that are most exposed to corrosive influences. For this reason, a special powder-coating technique is used.
With the TRICOAT treatment, hinges are extremely resistant not only to corrosion but also to scratching, wetness and staining.
TRICOAT is available in light grey.
Thanks to its pleasant silver shade, MACO TRICOAT ensures a stylish optical effect. Windows and doors with this type of hardware look more attractive.