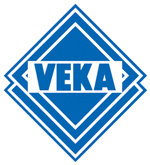 VEKA specializes in the modern PVC material,
which has important economic and ecological advantages. There are zero painting costs as the surface does not need additional maintenance. And this is combined with the highest stability and insulation properties. Using PVC frames is also environment friendly – the ecological thinking is an integral part of VEKA's philosophy, from production to recycling. VEKA profiles are made of extremely stable hard material. They are produced by extrusion of the raw material consisting of thermoplastic polyvinyl chloride (PVC).
The special formula ensures the desirable properties of the window profiles:
- high mechanical strength and stability;
- reistant to shock and cutting;
- can be used in a wide temperature range, from -40°С to +70°С;
- high wear and tear resistance;
- low inflammability and self-extinguishing property when removed from direct flame;
- high resistance to chemical and atmospheric agents;
- harmless for human health;
- good ability to retain their shape and minimal shrinkage.
VEKA uses raw PVC and additives supplied by leading chemical producers.
PVC is the most popular material for modern window and doorframes since the 1960s thanks to its superb properties. There are other plastic materials with similar or even better characteristics but, as a combination of qualities, PVC is unrivalled.
Window frames are cleaned easily with standard household detergents.
RAL – Guaranteed Quality
In today's highly competitive world, high standards and established brands are factors of prime importance. The constant improvement and attestation of quality are the guarantee for a company's success on this highly selective market.
The desirable standard is achieved only when all conditions for this are met. This standard is documentarily proved by RAL – the quality certificate of the German Institute for Quality Control and Documentation (Deutsches Institut für Gütesicherung und Kennzeichnung). This certificate is an established world standard and a guiding evaluation factor when choosing doors and windows.
The proven advantages of RAL-certified doors and windows are:
- guaranteed quality of all materials, sizes and assembly variants;
- high durability and therefore, profitable quality/price ratio;
- minimal maintenance efforts;
- meeting all ecological norms;
- correct assembly.
Properties of the Sealing Elements
High elasticity, high size-restoring properties; good thermal resistance; very good resistance against ageing; they don't colour the contact surfaces; excellent resistance to ozone, acids, bases and many aggressive chemicals.